If you haven't discovered Google Drive (used to be called 'Google Docs'), or if you know about if but can't see its value, please give it a chance. It's marvellous. Here are a few reasons why...
Files & Storage
Like the wonderful Dropbox, Googe Drive lets you store files online (a.k.a. 'in the cloud') so you can access them anywhere you go without having to carry around hard drives, memory sticks or, say, remembering to email yourself a document so you can work on it elsewhere.
Both Dropbox and Google Drive have software you can install on your PC/ Mac and smart phone which make it very quick to save files direct from any program (e.g. Word, Photoshop, your phone's camera or photo gallery) to your online space. Alternatively, you can upload files by going to the dropbox or drive web site - not as fast but does the trick if you're not on your own computer at
the time.
Currently Google Drive gives you 5Gb of space free and Dropbox gives you 2Gb. But if you get friends to sign up to Dropbox, you get more free space. Google charges a couple of £ per month to increase your limit to 25Gb. If you're interested, there's a cheesy
but informative comparison of the two products here.
You can also create files in Google Drive.
It has its own set of file formats based closely on Microsoft Office programs so 'Document' = Word, 'Presentation' = PowerPoint, 'Spreadsheet' = Excel. Forms we'll look at later.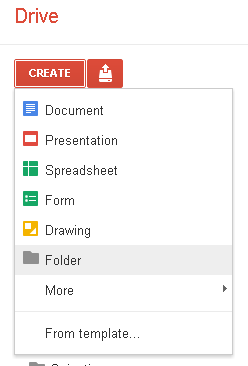 When you upload a Microsoft Office document you have the option of converting it to the equivalent Google Drive format so you/ others can edit it online via computer or (with more limited features) on a smartphone using the Drive app.
Sharing & Collaboration
You can choose to share anything you upload to Google Drive with either named individuals or just 'anyone with the link'.
You can also decide to let them edit the file in situ too. You can edit the same file at the same time as someone else and you'll see an arrow pointing to the bit they're adding or editing. It's not a gimmick, it works well. I've been working on a shared planning spreadsheet with a colleague for a few weeks now. We've occasionally been working on the file at exactly the same time and it feels fine/ intuitive provided you're not making major changes to the layout etc. This all makes Drive a powerful tool for group work, inc. collaborative note taking and authoring, brainstorming etc. (more on collaborative writing here)
Once you're done working on a file you can publish it online in lots of different ways or download it in a range of formats including Word, PowerPoint etc. It's worth thinking about the scope for publishing online vs. saving and emailing to someone. Consider:
I work with Jo on a text based document. We make tweaks independently over a day or so, at our desks, home, corridor (via phone)...

We get to a point where we want to show it to 5 colleagues for their input on different sections. We trust them so we send them all the link with the ability to edit the file. They add their bits along with any comments (like you do in Word).

It's not 100% finished but we decide to share it as a draft. We publish (via email, intranet etc) a read only link so others can see but not edit.

We continue to tweak the document and the general populous can see it evolve. The link stays the same. (We can revert to previous versions in a couple of clicks too.)
Forms
Google forms have tremendous potential. Think surveys or other kinds of data collection activities. They're very fast to create and you get the live results on-line via a Google spreadsheet which can then be shared like any other file in your Google Drive.
It's late and I'm too tired to write anything meaningful about forms but here's a quick video I found which gives the basic gist, despite it being quite old (it was made when Google Drive was called 'Google Docs').
Students could be designing these and circulating them to a wide audience without paying a penny (tools like Survey Monkey are excellent but if you want more than 100 responses you have to pay.
Another thing
Google Drive is accessed by a link on the google homepage. This e-Learning blog is made with Blogger, another Google product. I know Google is taking over the world but for me Google Drive, Blogger etc is the way to go.